Ten artists that made my 2013!
Fact: I get obsessed when I find bands I love. I can pinpoint key times in my life based on when a new favourite band crept into my consciousness, and from then on I need to know everything about them. Some of these obsessions fade over time, some take a backseat for a while then come back with force, others stay in my heart for good.
I've narrowed my 2013 listening down to ten bands and singers that were important to me this year - who were your favourites? What are your 2014 predictions?
10. Black Veil Brides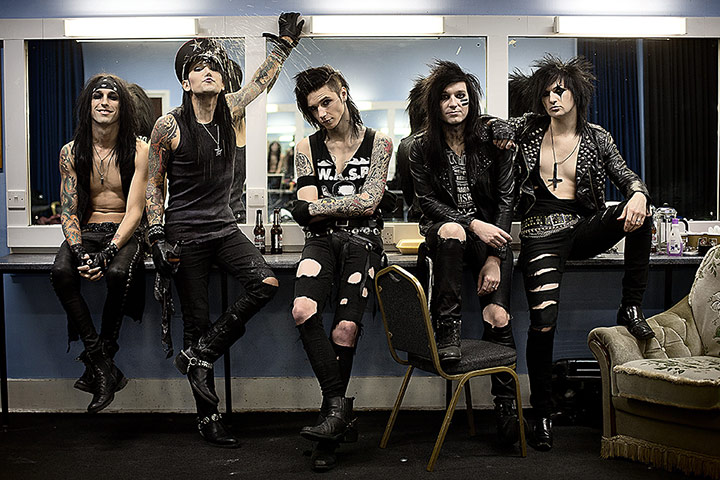 In the final couple of days of 2012, the latest Black Veil Brides album, "Wretched & Divine: The Story Of The Wild Ones" began to leak online. A concept album about a dystopian future where the band play a group of rebels fighting a state characterised by organised religion, "Wretched & Divine" was a big step forward for the band, who traded their war paint for guest vocalists (including The Used's Bert McCracken & Aiden's William Control) and violin overtures. The album is far better than either of their two previous records, despite its comparisons to My Chemical Romance's "Danger Days: The True Lives Of The Fabulous Killjoys".
I got into Black Veil Brides in Autumn 2011, and this year I saw them three times on the UK's annual Kerrang! Tour, which they headlined. In all honesty I feel like the obsession with BVB that I've been carrying for the last couple of years has very much faded, destroyed by rumours about the members and their personal lives that I never wanted to become so involved in. However, I'm seeing them twice more before the year is out, so maybe by the time 2014 comes I'll be back on their side!
9. Mindless Self Indulgence
I admit, this list was almost going to be the top nine bands of my year, but then last weekend I went to see Mindless Self Indulgence and after that I couldn't NOT include them! I fell head over heels in love with this band in 2007 after the Gerard/Lyn-Z wedding, but they kind of fell off my radar for a while when they all disappeared to start families. Then last year they toured again and put out a Kickstarter for their latest album - which I admit I still don't have, causing them to drop off my radar again after their shows in 2012.
BUT THEN! They announced an Edinburgh show for December 1st this year, and as they're my favourite live band I obviously went. It was my fifth MSI show but my first one down at the front, and I had the most fun I've had all year. To top it all off I finally managed to meet the whole band for the first time (up until then I'd met everyone but Jimmy at different shows)! I still haven't listened to "How I Learned To Stop Giving A Shit And Love Mindless Self Indulgence" all the way through yet, but I've included their song 'Fuck Machine' here - as you can probably guess from the title, it's NSFW, so beware!
8. Tonight Alive
My introduction to Tonight Alive came as a result of Black Veil Brides: they held one of the support slots at the Kerrang! Tour so I had the pleasure of seeing them play thrice in a week. I'm always wary of pop punk bands with female lead singers - after all, there can only be one Hayley Williams - but I found myself growing to love Jenna McDougall after seeing her perform for the first time (and she grabbed my hand on her way off-stage). Since the tour in February, I've listened to the songs from their set over and over, and when they announced a headline tour for October I immediately bought a ticket. Not only were they awesome then, but they also did a signing before the show so I got to meet the band. While my love for them hasn't quite reached the album-purchasing stage, I predict it won't be long until I part with my money so I can hear more from this band!

7. The Blackout

It's been a weird year for The Blackout. They've been my biggest obsession since 2009 when they released their 2nd album, and "Start The Party" is their 4th. However, they didn't play many shows this year due to illnesses and festival complications so I only managed to see them a pitiful five times in 2013. Still, they put out "Start The Party" in January and it's a great fun album which I don't think has received enough love. Hopefully next year they'll be up higher on my list again, my love for them shows no signs of slowing down!
6. Sonic Boom Six
Here's the truth: before 2013 I hated Sonic Boom Six. I'm averse to the dubstep trend that's infiltrated rock music, and when the above song, "Virus", was played on the radio I switched off. That's why I was dreading seeing them support The Blackout on their January tour. How wrong I was! Their music is impossible to pin down, combining rock, dance, hip-hop, and just about everything else imaginable in their set. By the end of the week I was totally won over, especially by the captivating Laila K, who I had the pleasure of meeting when I returned to see them again in October. Their songs have a feel-good attitude but also provide intelligent social commentary, with songs like "Virus" and "For The Kids Of The Multiculture" discussing the UK's problems with equality.
5. Blaqk Audio
This band's reappearance in my life probably has a lot to do with the reappearance of a certain related band who I'm going to discuss later in this blog - no points for guessing who! - but they definitely deserve to be here in their own right too. Although Blaqk Audio's second album "Bright Black Heaven" was released in late 2012, distribution problems meant that I didn't get to hear it until this year, around the time that Davey Havok announced his first novel, "Pop Kids". It took me a little while to get into the album but now I love it just as much as their debut, 2007's "Cexcells", which shocked me at first but became one of my favourites. I love the way that this 'side-project' differs from Davey and Jade's other band in terms of the mood and lyrical content; Davey's words are very sexual, and I remember being very surprised when I realised what he was saying in some of the songs. I'd recommend "Fade To White", which sounds like something from a dance-mat video game, and "Bon Voyeurs", an ode to public performance where you can practically hear Davey's grin the whole way through.
4. Paramore
I think Paramore are going to feature on an awful lot of Best of lists this year. They've been everpresent on my playlist since 2006, but as soon as "Now" and "Still Into You" from their self-titled album started to appear, it was clear that this was going to be a special year for the band. I got the album just in time for summer and I still haven't stopped listening to it, I love how the lyrics can be applied to the band's story (also clear on their previous album, "Brand New Eyes"), and the way that the band explore heavy music, pop songs and even ukulele-based interludes. I could have included any photo of the band to illustrate this piece, but I think the "Still Into You" video sums up why Hayley Williams is an endless source of inspiration to me. Any time I feel like painting, I usually turn to pictures of Hayley as my subject and her bright style never fails to produce art I'm pleased with. I've probably listened to this song more than any other this year, and although I still haven't seen the band live, the heap of live TV appearances they've made this year almost make up for it!
3. Motionless In White
This band are very much my latest obsession. For the last couple of years I've slowly fallen for Motionless In White, and this year I've grown to love their latest album "Infamous", released towards the end of 2012. Chris Motionless writes with so much anger and passion that they make for great listening when things aren't going your way. Over the span of two albums the band's lyrics have made reference to some of my favourite things, including: The Lost Boys, Edward Scissorhands, The Crow, The Cure and Morrissey, as well as addressing religious bigotry, relationships, and life as part of a band like MIW. I love every song on both "Creatures" and "Infamous", but my very favourite is a bitter love/hate song called "Sinematic".
I saw them in September of this year, and they put on one of the most entertaining shows I've ever seen with costume changes and dancing girls. Their video for "A-M-E-R-I-C-A" paints them as both leaders and onlookers of the bizarre circus of modern life and celebrity, and I'm drawn in by Chris' passionate responses to popular culture (read his blog here) and the band's anti-mainstream viewpoint (they're largely straight edge, and I can't help but love a band who speak up about that lifestyle). Plus I have a huge crush on Chris Motionless, but with those eyebrows can you blame me?
2. Lana Del Rey
I never expected to like Lana Del Rey at all. I have an aversion to those 'hype' artists that appear that the start of each year, backed by music critics and usually fading by the following December. I'd heard that she was vulgar and fake and adored by the "hipsters" so she wasn't for me. Then I heard a mash-up of her hit "Born To Die" and Rihanna's "Russian Roulette" and Lana's voice just wouldn't leave me alone so immediately I started listening to her on repeat, drawn in by her incredible range and desperate, melancholy tone. Luckily my discovery coincided with HMV's 'closing-down' sale and I picked up "Born To Die: The Paradise Edition" cheap and proceeded to listen to exclusively Lana. She sounded wonderful singing the love theme in "The Great Gatsby" which was a nice surprise upon seeing the film, and I love the imagery that surrounds her, from her lyrics and music videos, through to the different characters she embodies in her songs, from the bad girl of "Off To The Races" to the hopeless romantic of "Blue Jeans". I even love all her old and unreleased songs and I'll defend her to the end from feminist critics and singers like Lorde who criticise her apparent love for opulence and excess and need for a man, even when she knows the man isn't good for her.
Lana toured the UK in May this year, only a couple of months after I started listening to her, so every show was long sold out by the time I tried to get tickets. By some great luck her two Glasgow shows were merged into one arena show so I was able to go and see her and she was absolutely magical, spending 15 minutes at the end signing autographs and taking pictures with the entire front row of the concert. I can't recommend just one of her songs, but "National Anthem" is probably the one I've listened to the most, and outside of her album I also adore "Yayo", "You Can Be The Boss", "Smarty" and "Summer Wine" which is a duet with her boyfriend and a Nancy Sinatra cover.
1. AFI
April 2013: a cryptic video appears on AFI's website. Two weeks later, another one. Two weeks after that, another. And so on. What do they mean? For me, they mean that I'm putting my life on hold, because AFI are back. AFI have been one of my favourite bands since the obsession phase of 2006-7, but I don't think I realised quite how much I loved them until they began to tease the album that became "Burials". Deciphering the strange symbols which decorated the band's website became more important to me than completing the University coursework I had due, and I'm all prepared to drop everything should they announce a UK tour this Spring.
"Burials" is, on the whole, a miserable album. The songs have titles like "A Deep Slow Panic" and "I Hope You Suffer" and the cover art alone warns that this is not a pleasant summer album. It's not easy to listen to Davey's deeply personal and painful lyrics, and his delivery provides within the listener that suffering that he hopes for.
I've spent the latter part of this year getting to know not only "Burials" but also the AFI back catalogue. Before this year I mostly ignored their albums pre-"Sing The Sorrow", but now I'm familiar with everything from the juvenile punk of "Cereal Wars" to the grown-up pain of "Heart Stops", and I love all of it. Long live AFI, the most important band of my 2013!
You'll
♥
Loading related posts from sailthru...